Rev. Fr. Marcelino Waigo celebrates silver jubilee
Rev.Fr.Marcelino Waigo Vunni is joint by Jubilarians, Rev.Fr.Jino Mwaka , the Vice Chancellor of Sacred Heart University, Gulu, Rev.Fr.Acidri Aquilino, parish Priest Maracha, and Rev.Fr.Ambrose from Lira Diocese to celebrate their 25 years of Priestly ministry. The Thanksgiving Eucharistic Celebration was graced by the presence of the Bishop of Arua Diocese, Rt.Rev.Sabino Ocan Odoki who was the main celebrant at the occasion, honorable Dr.Joyce Moriku Kaducu, State Minister for Primary Education, amongst other guests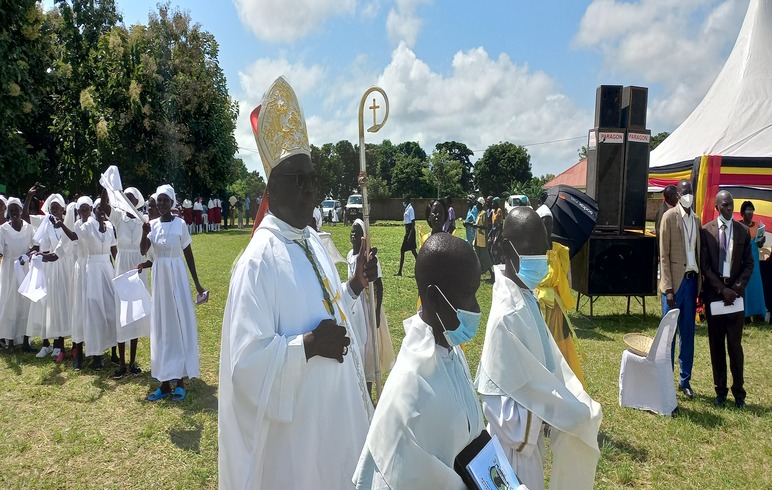 "The Lord has listened to my prayer and he has given me more than I have asked for "Fr.Marcelino Waigo Vunni's Homily.
"Let us thank the Lord almighty for this day, and in a likely manner, let us welcome our Lord Bishop, Rt.Rev Sabino Ocan Odoki , amidst us on this very great occasion. My name is Waigo Marcelino, the Jubilarian of today. I feel honored by the presence of our Lord Bishop and all of you who have come from far and near. We have waited for this day and here it is today, my prayer is that the Lord God who has called us to serve him may grant us our prayer and may grant us our heart desires and bless this day. It is a day of thanksgiving for the 25 years he has been with me. I am very very humbled that the Lord God can do what he has done through me.

From the wisdom of a wise man he says, he calls you and myself my son and my daughter. When a parent calls you as my son or my daughter and not by your real names , it means he or she loves you so much. God loves me so much. God loves us so much, God loves me so much, I am feeling a lot of love in my heart today. This love has come through him. So he advises us to be humble, conduct your work with humility, the more you humble yourself , the greater you will be.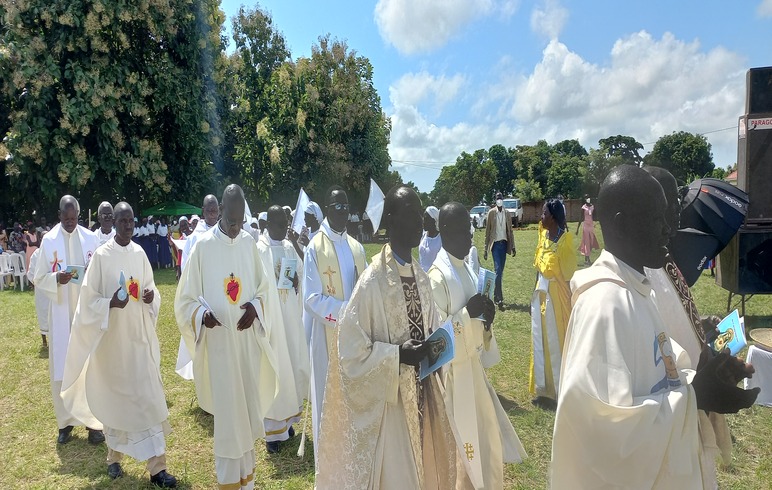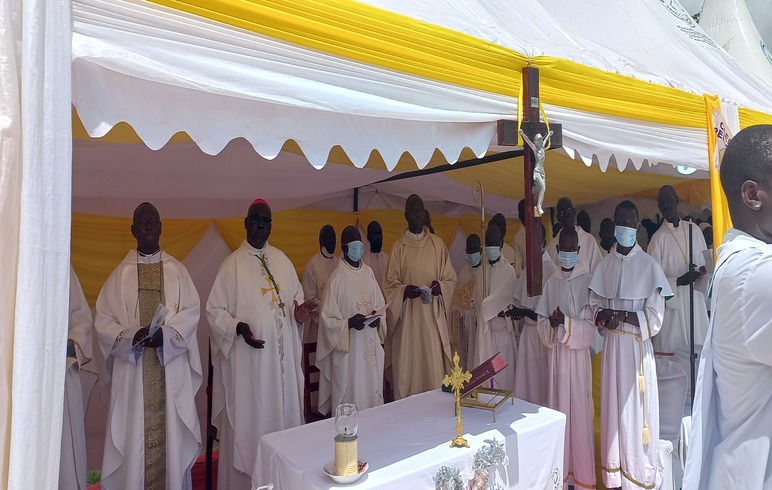 For us priests, one of the things to our superior, the Bishop, is humility. On 19 july 1997, I folded my palms together, and placed it in the hands of the Bishop and I promised obedience to him and to all his successors. For 25 years, I have been practicing humility. And that is what we are as priests . So I thank the Lord God for bringing me that far in that virtue of humility.
The advice of a wise man here is, for things that are greater and beyond your capacity as a humble servant , dont move there. Don't stretch your hands to pick things that do not honorably belong to you. It says be satisfied with the humble things that you do, be wise and understand people. It is only through that that we can reach a rich faith and obedience to God and his son , by understanding one another. Noise takes us nowhere. Aspiring for things beyond our capacity takes us nowhere. With humility we can move far. We are told by these wise words that those who took their opinion as more important than others, perhaps the truth has fallen away.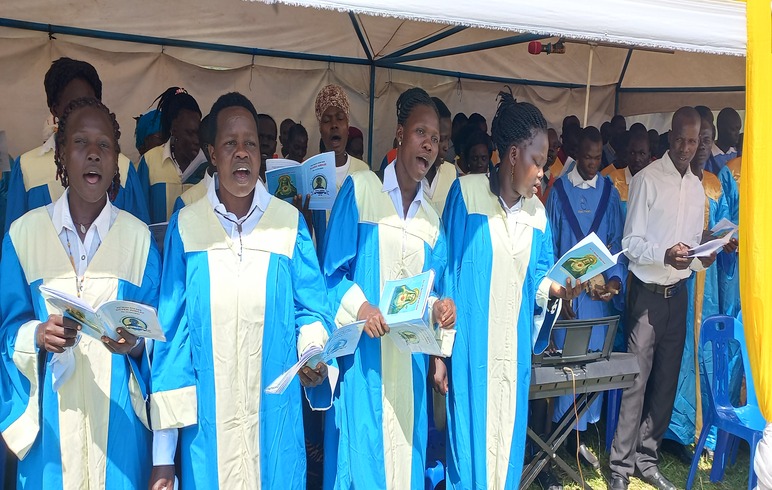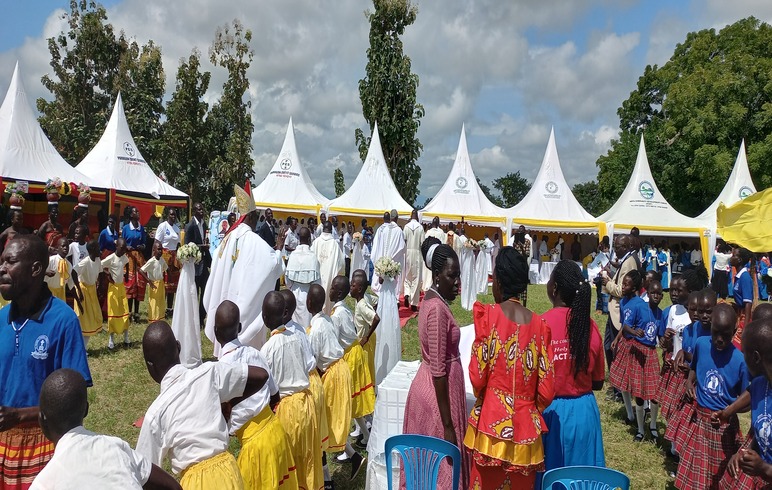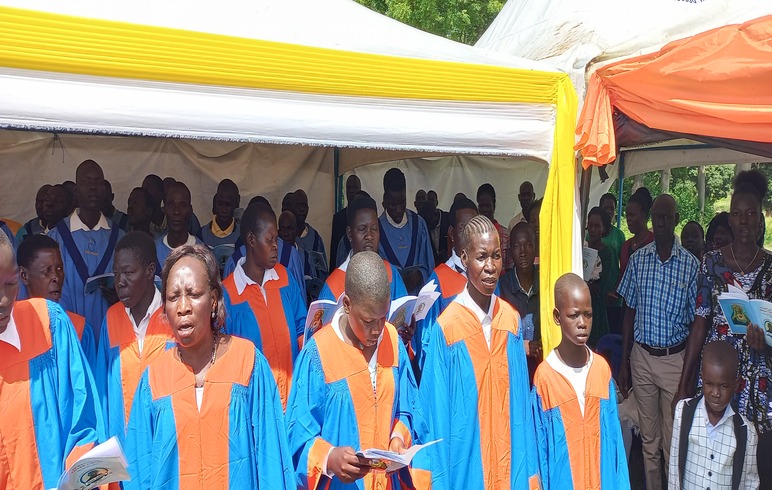 We ask the Lord God to enrich us with knowledge and his wisdom so that we understand his ministry and we understand his expectation for us priests and christians. So let us thank him for the faith which he has brought in us and that brought us far.
The first exercise of this ministry as a priest was conducted in Obongi Parish. Obongi people shaped me, they shaped my humility. And they nicknamed me, Fr.Panadol. Because I always tried my best to calm the nerves of the people. Where there is conflict , disagreement , I always tried my best to calm the nerves of the people. So thank you very much to the people of Obongi.

When we look at the Psalms , it is one of praise to God. It is one for whom has experienced the praise of God. And it is the small praise that I chose to put on our sovenaire. My Spirit rejoices in God. 25 years is not a simple thing. I rejoice in him because I feel that God has blessed me abundantly and blessed me more than I have asked . And today he is here to bless us. He has saved me from my fears. I know you can count your own experiences of being saved from one situation to another.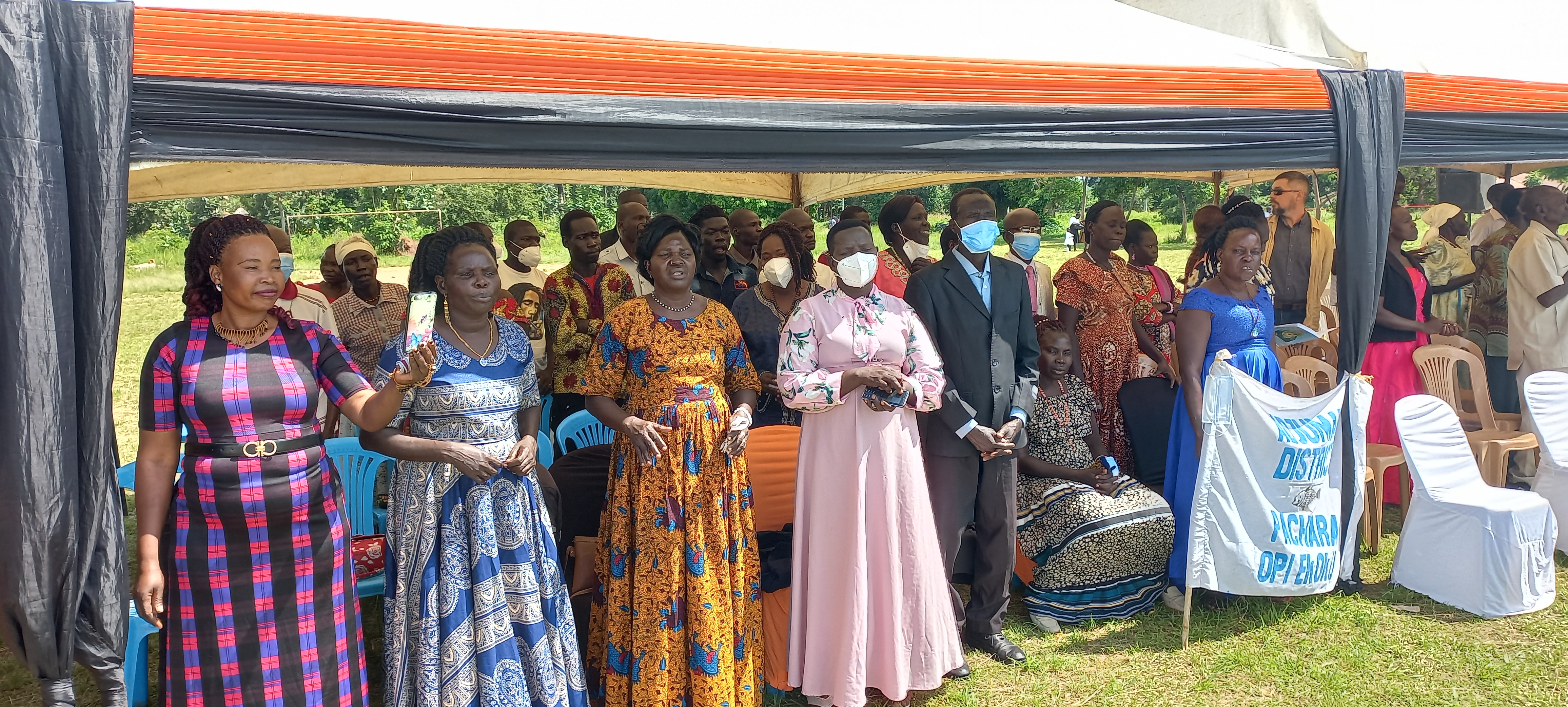 I did my primary school from this very primary school in front of us here called Entedde. Those years, as a young boy i used to hear other children dying from other villages and also my own village. When i hear people crying, i knew i was one who could also die at any time. As a young boy, my prayer to God was, dear God, I know any time i will die. But leave me to reach only Secondary school and then now i can die. Because I saw good life being in secondary school, my brothers who were in Moyo secondary dressed smartly, spoke good English and could time and again parade themselves to town, so I saw life there. In 1983 , God allowed me to join secondary school life. From that date to today , I don't know how many years have lived. I joined not only secondary school. But i later also joined the Seminary, Major Seminary, I was ordained a priest. And now am celebrating 25 years in priesthood. You can see that God has granted me not only to join secondary School but has taken me even further and made me a priest and right now I am celebrating 25 years. Has he listened to my prayer? He has listened to my prayer and has given me even more."

Rt.Rev.Sabino Ocan Odoki, the main celebrant thanked the Jubilarians for twenty five years of their dedicated service in the ministry of Christ and asked the Christians to give all the necessary support that would aid their work of evangelizing the people of God. He thanked Fr.Waigo in particular for choosing humility above self and asked God to bless the works of his hands.