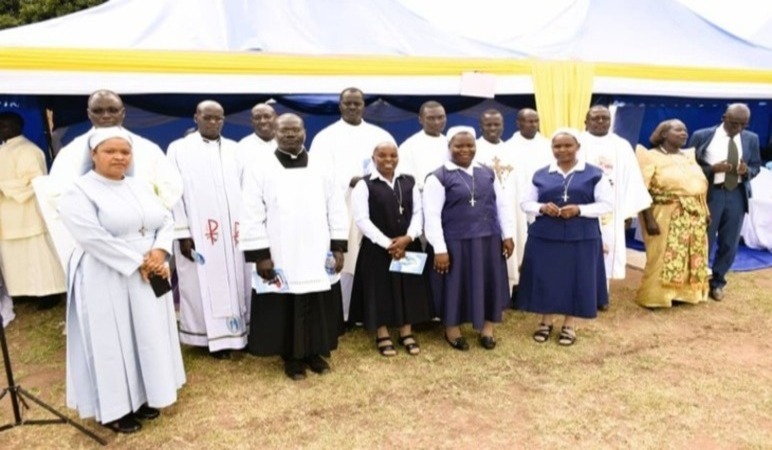 Thanks Giving Mass of Sr. Mary Livia Aseru, Aripea Parish.
Hundreds of Christians turned up today to join Sr.Mary Livia Aseru in her Thanksgiving Mass at Aripea in Arua District-Uganda.
Fr.Patrick Mawa of Lezubu, the main celebrant, in his homily, urged the religious to guard against inordinate desire for wealth or possessions of this world. He noted that many religious institutes whose members take vows to poverty, chastity and obedience find themselves running after outside legitimate sources of income, material possessions like nice cars, purchasing of land, constructing several buildings and hence living unhappy life and destructed from their soul purpose of nurturing faith in God's People.
He appealed to Sr.Livia to have the courage to stay on track in her call to the religious vocation acknowledging that she will meet trials and temptations in her journey while assuring her that she is under God's intervention.
Fr. Patrick expressed his gratitude to God for Sister Livia's response to heed His call to join the Church and for planting the seed of vocation in Sister and all who nurtured it. He thanked the parents, friends, relatives and the family of Notre Dame in Tanzania and the world at large.
The congregation included Christians from Gulu ArchDiocese Foster parents, Masindi Community, Masaka, Arua Community, Notre Dame Community, Moyo Adjumani amongst others. Sr.Livia concluded by giving gratitude to her family, her community, friends, relatives and all those who supported her formation.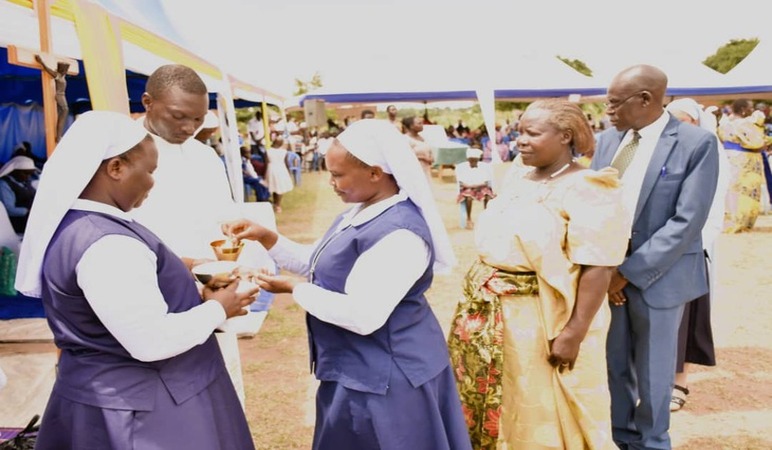 Sr.Livia Mary Aseru Brief Biography and Studies
Sr.Mary Livia Aseru was born on the 16th June 1992 in Lugazi to Mr.Olema Justo and Mrs. Aweru Jeska. She is the 5th born among 7 of her other siblings. Sr.Olivia studied her Nursery and Primary School from Kinyara Sugar Works Primary between there year 1996 and 2005. She later joined Senior One in 2006 at kinyara Secondary till 2007 after which she traveled to continue with her Senior three and Senior four in Arua at Anyafio Role Model Secondary School.She later went for Advanced Level Secondary at Arua Public Secondary School until 2011. She joined the congregation of Sisters of Notre Dame in 2012 and did her candidacy in their formation house in Entebbe. Moved to Arusha Tanzania for her Petulancy and Novitiate.
After four years of formation. Sr.Olivia made her First Profession on 4th 2016 in Arusha Tanzania. She was then appointed to work in Tanzania For a short period of time, half a year and later joined Queen of Apostles Philosophy Center in Jinja for her further studies. Graduated with a Bachelor's Degree in Philosophy in May 2021. Sister was again asked to work in Tanzania for six months and later in Jan 2022 was sent to Nairobi to prepare for her perpetual profession which took place on the 21st May 2022 in Arusha-Tanzania.