The Diocese of Arua, Office of Refugee and Migrants Vicariate held the first meeting of the Board of Commission.
Members of Board of commission, office of Refugees and Migrants Arua Diocese held their first meeting on the 26th of June 2022 at Multipurpose Hall in Adjumani.
During the meeting, Administrative Secretary of Refugee and Migrants Vicariate, Arua Diocese. Ms. Lillian Awio presented the achievements, challenges and resolutions of the Vicariate.Some of the achievements she pinpointed included 37 Pastoral Agents from 9 Congregations that have been received to implement the pastoral plans of the Vicariate through the lobbying of the Bishop of the Diocese of Arua, Rt. Rev. Sabino Ocan Odoki since the creation of the vivariate. She said several churches have also been constructed in some of the settlements to provide proper shelter for worshiping, prayers. She noted that this has encouraged the formation of Church Associations in the Settlements like the Choir, YCAs, CWA, Charismatic Renewal, inter alia. Other achievements included, Skills in various areas like Tailoring, Carpentry and Joinery, Hair dressing, Electrical installation, Metal Fabrication, Motorcycle repair, Computer, Catering to many young people and youth through the various Pastoral Agents working in the Vicariate which help in improving the Livelihoods of the Refugees and the Host Communities. Administration of sacraments in the settlements through pastoral agents, training of more catechists and Scholarships for Secondary Schools that have been given through the Pastoral Agents like JRS, SVD, among others.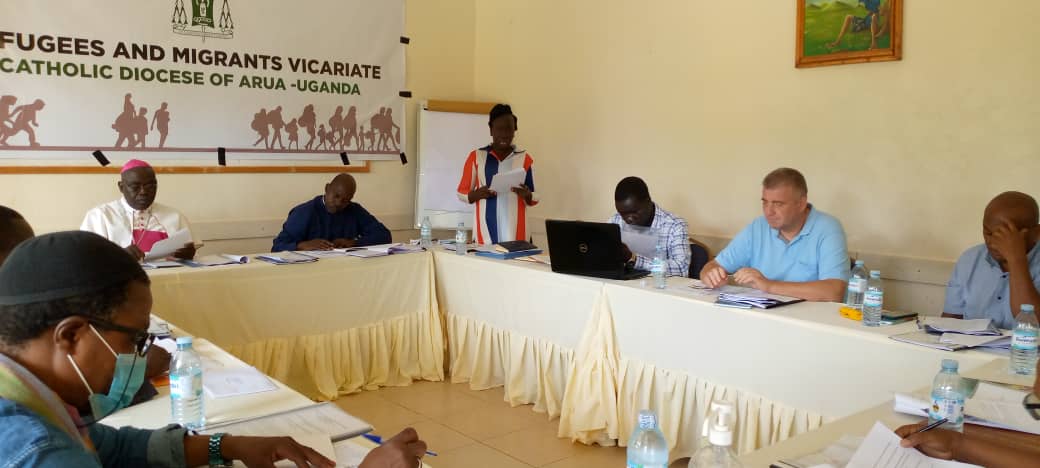 Ms.Lilian also presented a few challenges like Inadequate number of Pastoral Agents to cover the whole of the Vicariate for Refugees and Migrants, lack of funds for running the office, lack of systems for instance, management of Information System, Finance, Human Resources and activities of the Vicariate amongst other challenges Fr. Kizito OyiiMungu, AJ. Chairperson, BoC Refugees and Migrants Vicariate, Diocese of Arua. thanked the Bishop for being present and for always giving his guidance. He welcomed and thanked the members for accepting Bishop's appointment and urged members now to play their roles diligently as they serve the refugees.
Bishop Sabino Ocan Odoki in his message appealed for more response from the missionaries like the Scalabrinis and also appealed for Higher education for the Refugees. The Bishop noted that Arua is hosting approximately 1.050.000 Refugees and presented the names of the Pastoral Agents serving in the Refugees and Migrants Vicariate.He said he informed the Holy See about the interventions of the Pastoral Agents in the Refugee Settlements. For instance, Comboni Sisters are implementing Health activities; Jesuit Refugee Service is implementing training of Catechists and vocational skills, but there is still more need to train Catechists, the rest of the Pastoral Agents are implementing administration of Sacraments, Scholarships, Vocational skilling to mention but a few.
He concluded by saying he will continue appealing to more Missionary Congregations to support the Refugees and Migrants Vicariate.