Thanksgiving Mass For Venerable Servant of God. Bernardo Sartori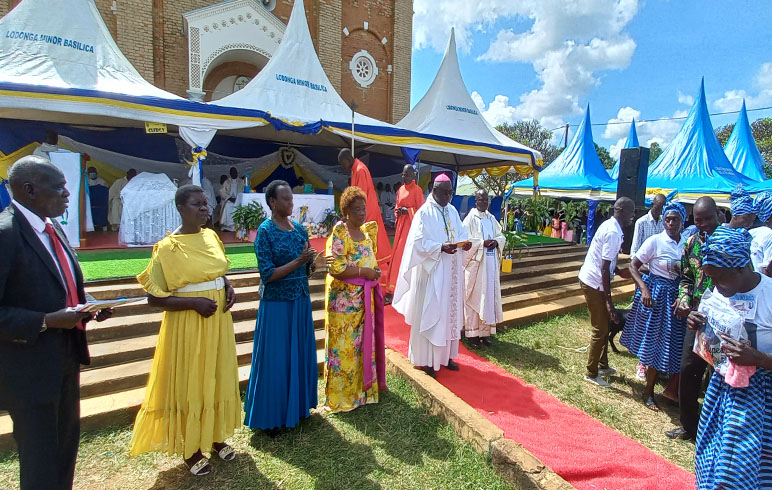 Message from the Bishop of Arua Diocese.

On the 13th December, 2021, we received with joy the news of the promulgation of the Decree regarding the heroic virtues of the Servant of God, Fr. Bernardo Sartori. The promulgation of this decree was authorized by Supreme Pontiff, His Holiness Pope Francis, in an audience granted to His Eminence Marcello Cardinal Semeraro, Prefect for the Congregation for the Causes of Saints. In the judgment of the Congregation, the Servant of God Bernardo Sartori lived in a profound union with God and fidelity to Church teaching. This was a definite acceptance of the Holy See of the cause of beatification of Fr. Sartori.He became a Venerable Servant of God.
This promulgation witnesses to the full flowering of cardinal and theological virtues in the life of Venerable Servant of God Fr. Bernardo Sartori. It implies that he was a person with possibly superhuman abilities and great goodness. Together with the four cardinal virtues of prudence, justice, fortitude and temperance, Venerable Servant of God Bernardo Sartori, was endowed with three theological virtues, i.e., faith, hope and charity. Charity stands at the summit of all other virtues. Faith is at the foundation of all virtues. Faith is the secret of one's conscience. To the world, it is made manifest by the good works in which it leaves "Faith without works is dead" (James 2:2). Hope is a firm trust that God will give us eternal life, and all the means necessary to obtain it; it attains heroicity when it amounts to unshakable confidence and security in God's help through all the outward events of life; it is ready to forsake and sacrifice all other goods in order to obtain the promised felicity of Heaven.
Right from his early life, Sartori was a man of trust and hope in God. He placed his trust in God and such trust became a basic point in his spiritual life. There were many instances in his life that expressed his hope in God, and in the intercessory power of Our Lady. Difficulties and uncertainties criss crossed his path daily, but he continued to grow in the love for Christ, for the Blessed Virgin, and for his brothers and sisters. He refined his spirit of prayer and penances. He was a great friend of all, especially the poor, in the various places of apostolate. His devotion to the Blessed Virgin Mary inspired him to erect the Minor Basilica at Lodonga. Fr. Sartori willingly came to Lodonga to replace Fr. Valcavi, with the promise to build a large church to Blessed Virgin Mary. He openly spoke about his love for Mary and his hope in her intercession, "I am between crosses and thorns, but Our Lady has to be at my side, and with her I will have no fear." We give great thanks to God that these virtues were recognized in his life. We celebrate the holiness noted in his life as an expression
Rt. Rev. Sabino Ocan Odoki
Bishop of the Diocese of Arua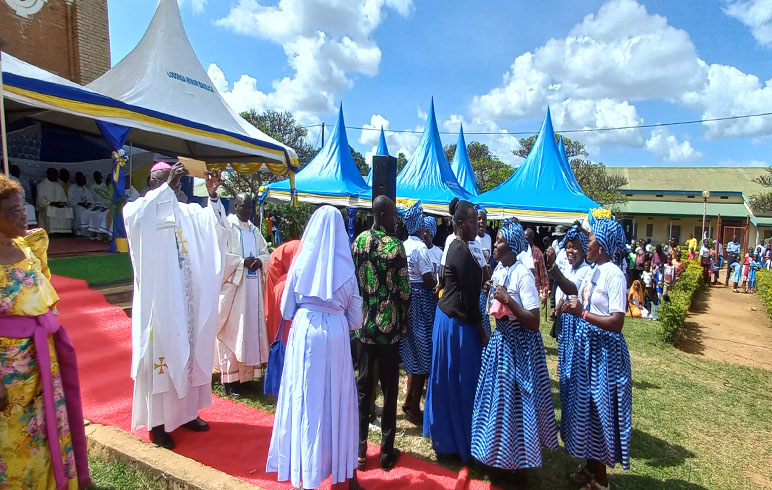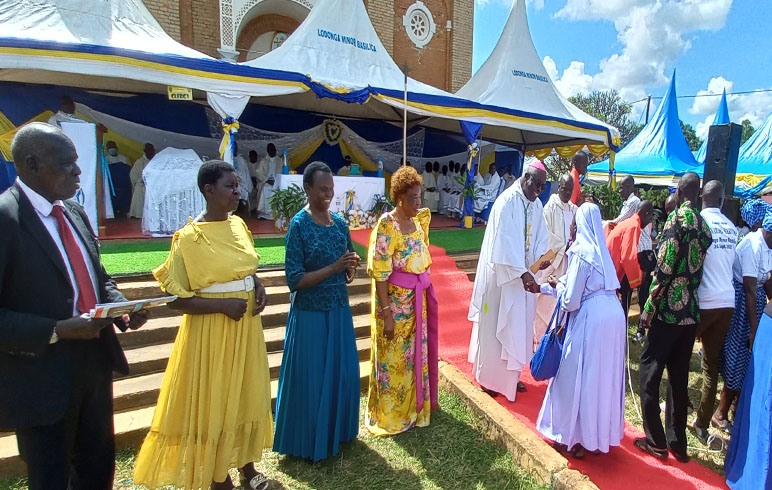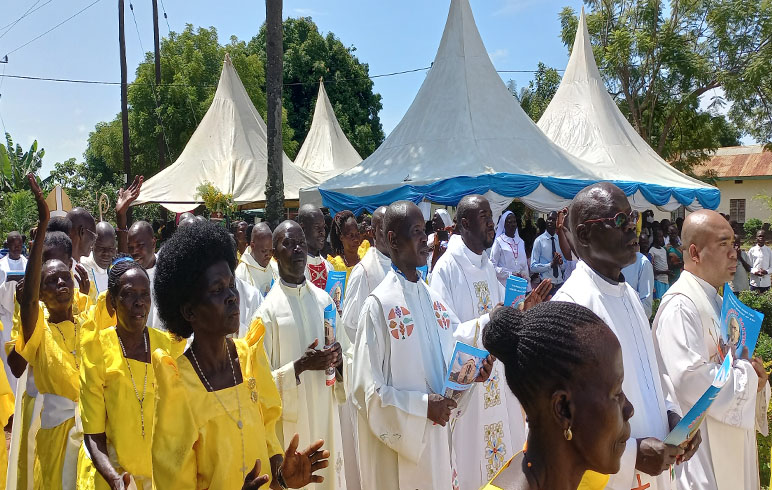 Message from the Rector/Parish Priest Lodonga Minor Basilica
Dear brothers and sisters. The purpose of this great celebration is to thank God for the heroic virtues of Servant of God Fr. Bernardo Sartori. He lived the life of hope and trust in God. He was a man of love and charity. He was a man of prayer and loved mother Mary and had great attachment to her in his pastoral work He planted the seed of Christianity in Lodonga and did pastoral work with zeal. He defended the faith fearlessly amidst religious persecutions. As we give great thanks to God for the promulgation of Fr. Sartori as a venerable servant of God, what have we learnt from his life as Christians and pastors? strength to strength in Lodonga and Yumbe district. Can we live a life of humility and holiness? Many venerable servants of God pray for us so that Christian faith may grow from strength to strength in Ludongo and Yumbe District.
Rev. Fr. Constantine Avaga Banduyo
Parish Priest Lodonga Parish
Message from the Chairman C.O.C
On behalf of the C.O.C, the Christians of Lodonga Minor Basilica and the entire Diocese of Arua, you are all welcome to Lodonga Minor Basilica for this Historic event of our time. We are gathered here to thank God for the gift of an extraordinary shepherd who has reached the second stage of sainthood as Venerable Bernardo Sartori. He is extraordinary indeed based on his prayerful life resilience in nurturing the Catholic faith in Arua Diocese through praying the Holy Rosary to solve matters the ordinary human brain cannot configure. It is worthy to acknowledge Padre Bernardo Sartori for his efforts in sol ting resources for building and as an artist and designer the magnificent Minor Basilica of Lodonga dedicated to Our Lady, the Sultana (Queen) of Africa the mediatrix of all Graces; Our Lady of Fatima, Koboko Parish; Regina Mundi Otumbari Parish and the Mary Mother of the Church, Arivu Parish. In all these parishes Padre Sartori left a remarkable legacy of praying for graces through Blessed Virgin Mary which the Christian practice for miraculous healings as narrated by many even after the forty (40) years of Padre Sartori's death dated Easter Sunday 3rd April 1983. The living witnesses have testified that Fr. Sartori used the Holy Rosary as a tool to treat illnesses, solve his evangelization travel challenges like punctures, fuel shortages amidst threats to his life in Lodonga and Koboko Parishes especially. We wish to thank all of you who have contributed to the success of the celebration, physically, materially, technologically and through prayers. Without your support, we would not manage it. The Parishes of Arua Diocese, Lodonga Arua Community, Lugbara Kampala Community, the C.O.C, Catholic founded Institutions in Arua Diocese, individuals and all of you not mentioned here. Thank you very much and may the Lord bless you abundantly for your generosity. Our major intention in this thanksgiving Mass is that; God the Almighty Father may make it possible for our generation to celebrate padre Sartori among the saints soon. We also pray that the legacies father left like sacrifice for the abandoned, love for everyone and prayer through Blessed Virgin Mary to solve challenges may be emulated for the propagation of peace in our troubled communities. The coincidence of the Chairman C.O.C of the function being the Parish Finance chairperson of Lodonga Parish has made it possible to inform the congregation of some challenges Lodonga MinorBasilica faces as a Center for Annual Pilgrimage and also in organization of the celebration: The Christians of the Basilica live on small plots of land not adequate for commercial farming as They are migrants and catholic converts who left their cradle lands and many of them do not even have land where their grandparents left. This makes their finance base low to support the basilica. If the basilica is to develop into an International Pilgrims Centre, then it needs the intervention of the government that should be reminded to extend support to build facilities for an Institution that develops the moral capacity of the citizens. The next stages of Padre Bernardo Sartori's journey to sainthood will possibly be celebrated here in Lod ga Minor Basilica. therefore request the Christians, political leaders and well- wishers to collaborate together to ensure that the pavilion, accommodation facilities, clean water source, toilets and paths are greatly improved.We pray for journey mercies through Venerable Bernardo Sartori and Blessed Virgin Mary that you may travel back safely to join your families and communities taking the graces you have obtained from the Basilica.
Thanks. Yours faithfully;
Candiga Tartizio, Chairman C.O.C.